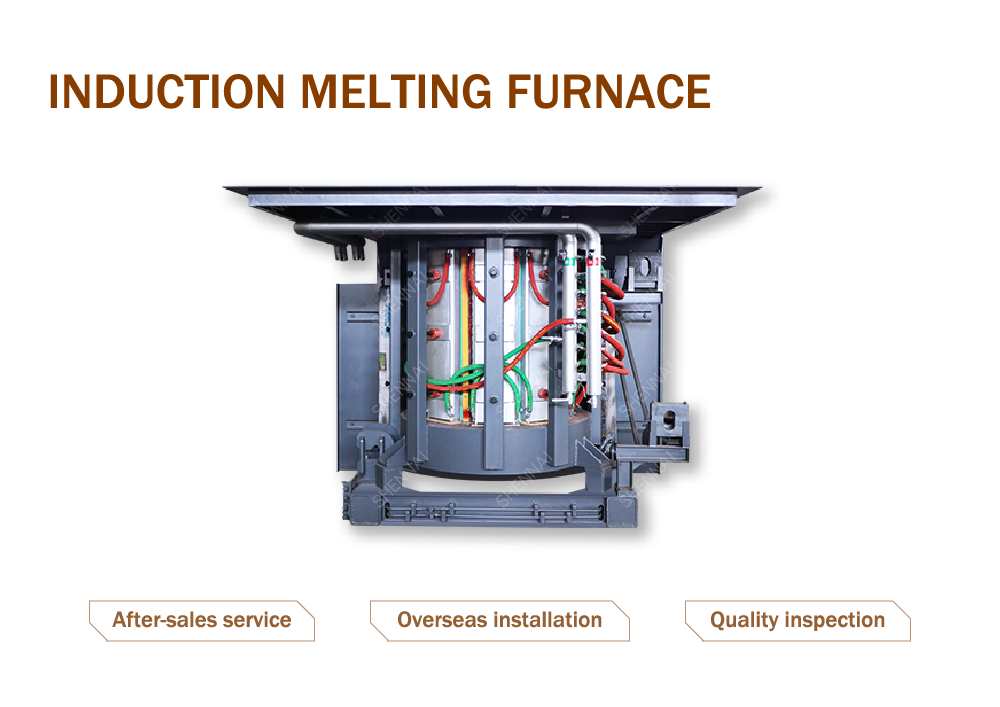 Features:
 Various capacity 0.1T -20T, fast melting speed, 40-60 minutes /pot.
Have self-test function, real-time supervise.
Have leaking alarm device, PLC control, easy to operate.
The control cabinet is standard of the automobile line, easy to maintain.
The water way uses carbon-free hose , water separetors and clips use 304 stainless steel.
Can meet 24 hours continuous work.
High efficiency , low cost , easy to maintain, energy saving ,safe and stability.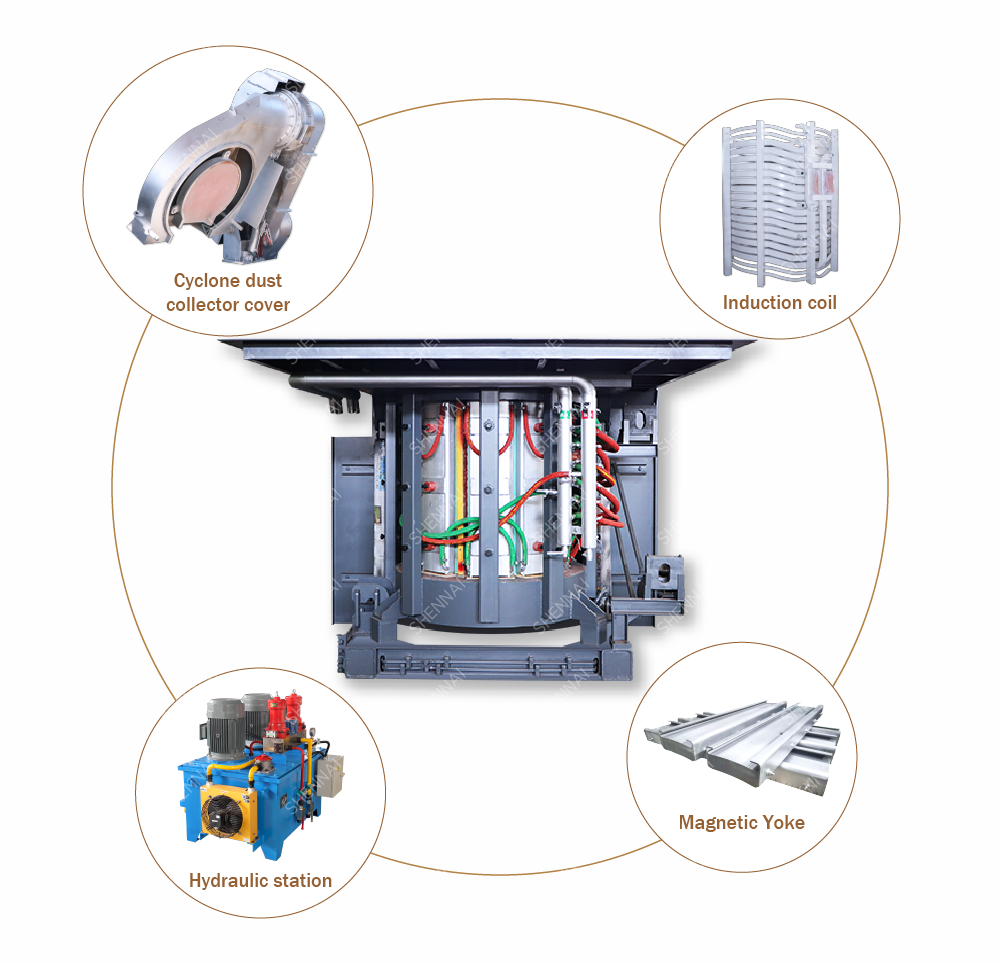 Steel Shell Furnace:
Strong and durable, especially large capacity furnace body, need strong rigid structure, from the Angle of safety of tilting furnace, try to use steel shell furnace.
Magnetic yoke made of silicon steel sheet plays a role in shielding emission of magnetic field lines generated by induction coil,
reducing magnetic leakage, improving thermal efficiency, increasing production, saving 5%-8% of the operation.
 steel shell furnace due to less magnetic leakage, long service life of equipment.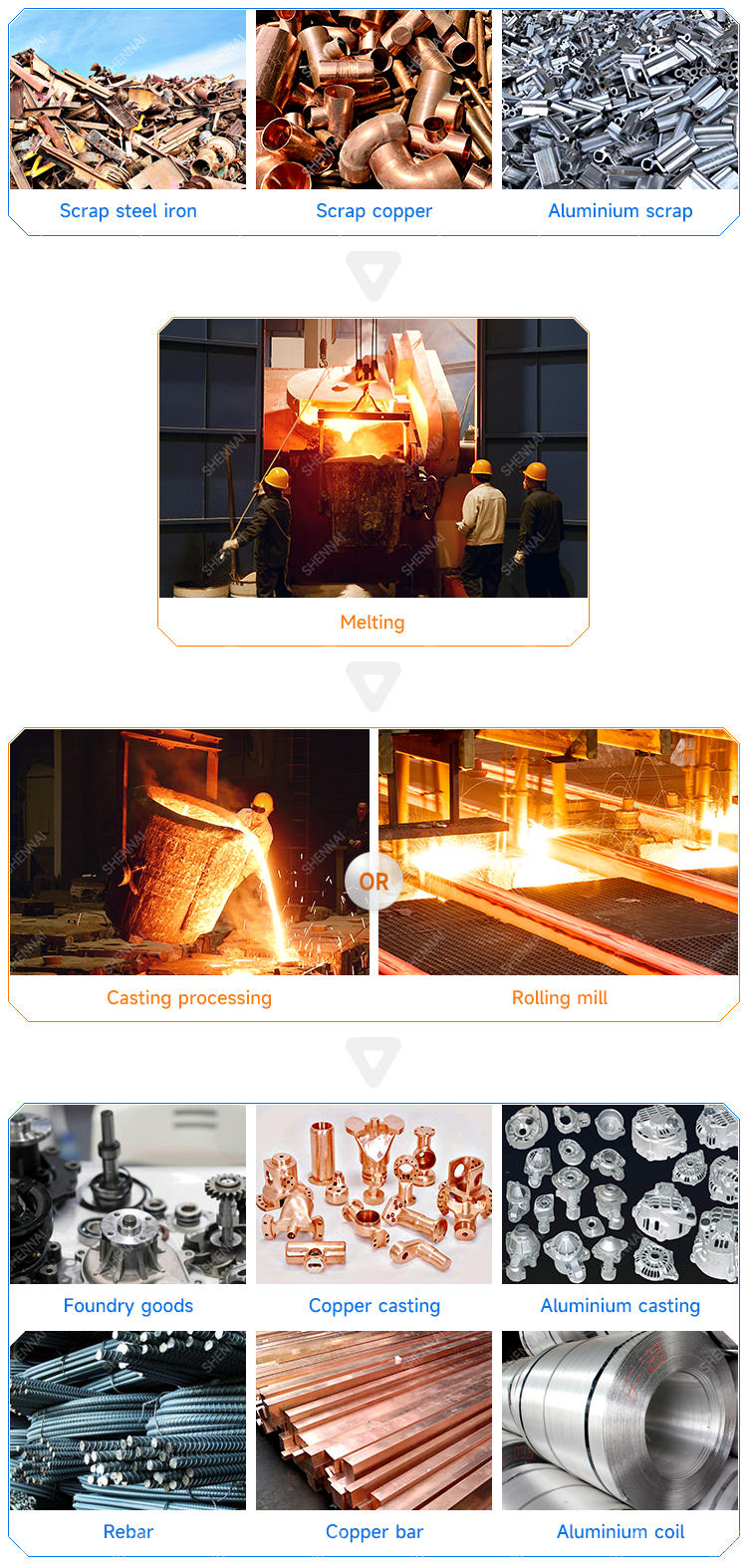 Medium frequency melting furnace is mainly used for smelting and refining various scrap metals such as steel, iron, stainless steel, copper, bronze, brass, aluminum, zinc.
 After smelting, scrap metal can be poured into molds for casting, or it can be rolled by rolling mill.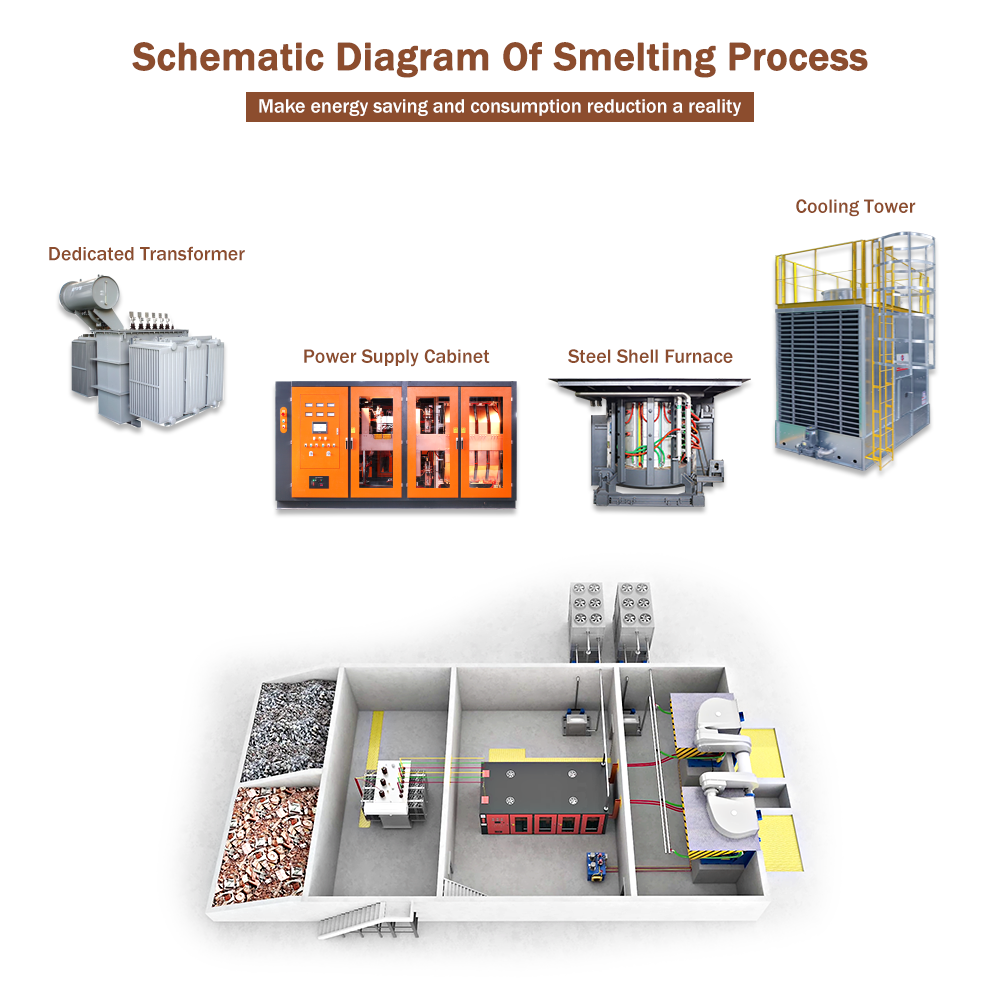 The melting furnace mainly composed of power control cabinet and melting furnace body.
The equipment can meet 24 hours of continuous work, it have self-test function and leaking alarm device, real-time detection of water temperature, water pressure, over-current, over-voltage, lack phase information.
IF Power Supply Cabinet:
The same multi power supply has the capacity of batch production of multiple single power supply.
 Arbitrary power allocation, starting rate of 100%.
Uninterrupted melting and precise temperature control for holding or superheating.
Cross Flow Cooling Tower:
It has enough rigidity, strength and good aging resistance.
 It has good flame retardant performance and meets relevant national and local standards and regulations.
Low operating noise, in line with environmental protection requirements.
 Uniform water distribution, less wall flow, not easy to plug.
Hydraulic pressure station:
 Including hydraulic pump station and tilting furnace operating table.
The hydraulic pump station is used to provide power to the tilting furnace.
 The rated working pressure of the pump station is 11Mpa.
Capacitor Bank :
The double-layer mica insulation technology is used for the insulation treatment of the capacitor.
Even if water is sprayed on the capacitor accidentally, the insulation strength of the cabinet can be ensured.