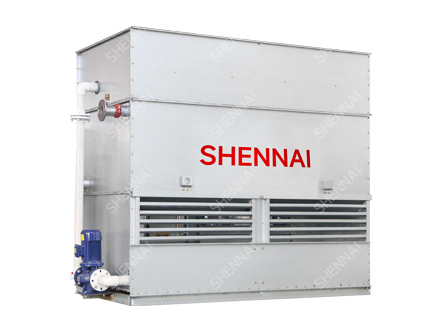 Product selling point:
 Intelligent equipment, easy to operate, high stability
High efficiency and energy consumption less than 550KWH/T
Electronic components using well-know brands at home and abroad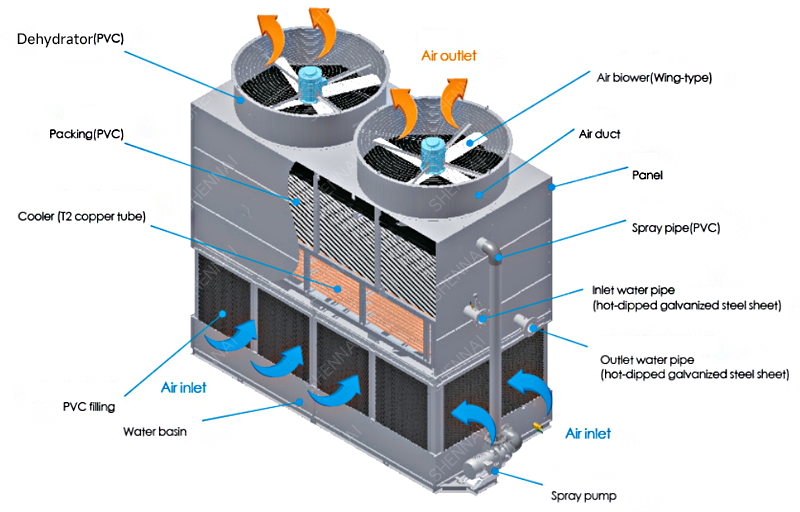 Structure and working principle of cooling tower:
In the process of working ,The cooling medium(soft water,oil or other liquid) is driven by the main circulating pump circulation flow between heat exchanger and the equipment(such as the power supply and furnace bodies).
The water is spray on the heat exchanger uniformly and form a layer of water film on the heat exchange surface.The cold air enters the tower from the below air inlet through the surface of heat exchanger surface against the water.
There are two heat exchange methods in this process.Heat transfer between the cold air and the cooling medium, and heat exchange of evaporation and heat absorption of spray water.Hot humid air is discharged from the air into the atmosphere.
The other water flows into the sink below the tower.And then pump them into the sprinkler system.So that the cooling medium in the reciprocating heat exchanger is cooled.