An ingot casting conveyor is a type of conveyor system used in the casting of metal ingots. Ingot casting conveyors are typically used in foundries and other metalworking facilities where molten metal is cast into molds to create solid metal objects. The conveyor system is designed to transport the freshly cast ingots from the casting area to a cooling station, where they are cooled and solidified before further processing.
Ingot casting conveyors can be used to cast a wide range of metals, including steel, aluminum, copper, and other alloys. They are an important part of the metalworking process and help to ensure that the ingots are produced with consistent quality and precision.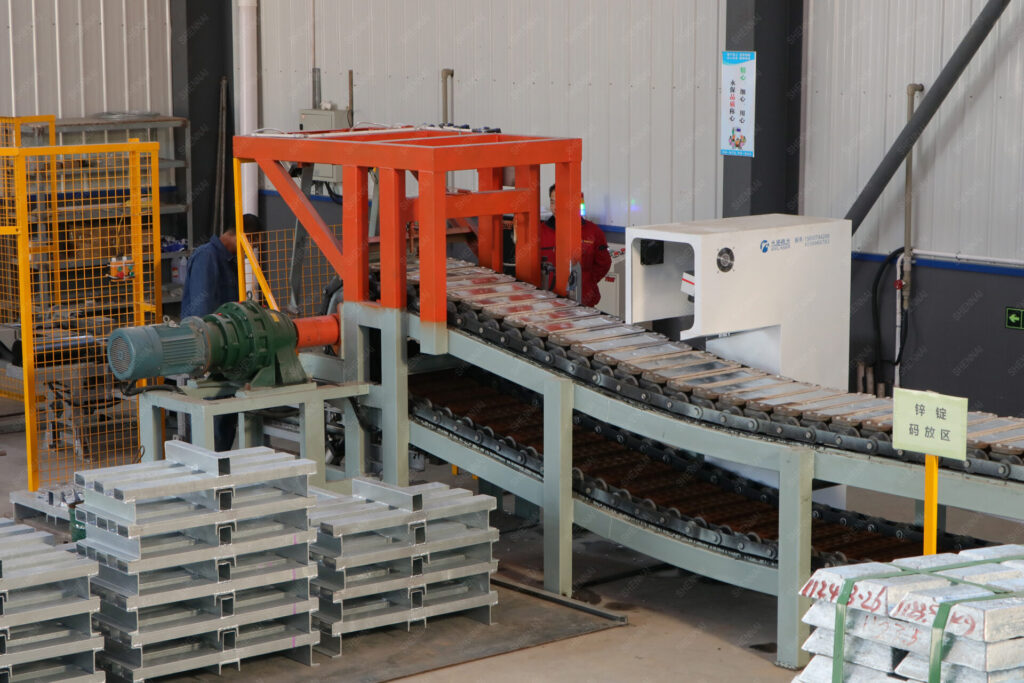 Ingot casting conveyors are typically used in the production of large metal objects, such as billets, bars, slabs, and beams. The conveyor system is often integrated with other equipment, such as induction melting furnaces, ladles, and molds, to form a complete casting line.
One of the key features of ingot casting conveyors is their ability to handle high temperatures. Molten metal is typically cast at temperatures ranging from several hundred to over a thousand degrees Celsius, and the conveyor must be able to withstand these extreme temperatures without deformation or failure. In addition, the conveyor must be designed to prevent the molten metal from spilling or dripping onto the floor or other equipment, as this can pose a safety hazard.
To ensure proper cooling and solidification of the ingots, ingot casting conveyors may use water or air-cooling systems. Water-cooled conveyors typically use a series of water-cooled rollers or belts to transfer the ingots, while air-cooled conveyors use a series of fans or blowers to circulate cool air around the ingots. In some cases, a combination of water and air-cooling may be used to achieve the desired cooling rate.
In addition to their use in foundries and metalworking facilities, ingot casting conveyors may also be used in recycling operations to cast metal ingots from scrap metal. This allows the metal to be reused in new products and reduces the amount of waste generated by the recycling process.