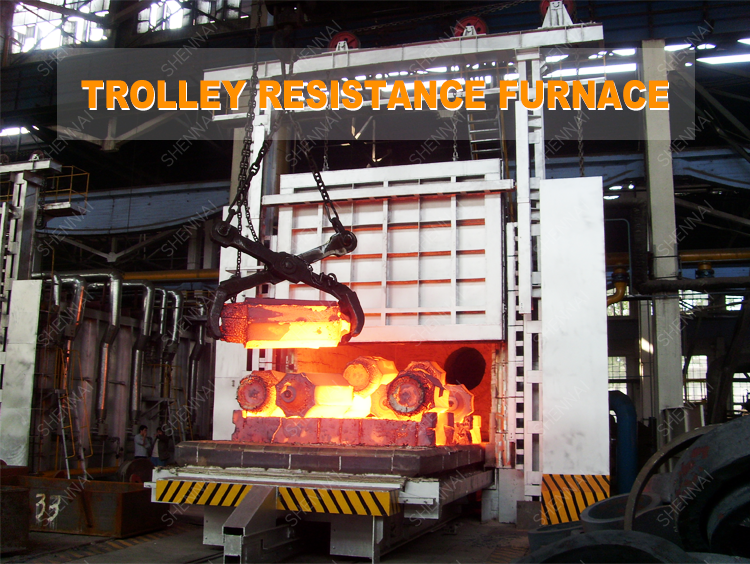 Trolley type furnace:
Furnace chamber consists of high-purity Al2O3 ceramic fiber material, no powder pulled off under high temperature. With material's low heat capacity, the machine can save over 50% energy.
Furnace door movement is parallel to the front face, convenient for user to operate.
Machine has a high heating rate. It takes 15~30 minutes to rise from room temperature to 1000ºC.
Temperature controller is programmable with 2 groups/16 segments and able to set temperature curve. PID control system ensures high precision ( ±1ºC) and constant temperature requirement.
When temperature exceeds the set value, furnace sends out audible and visual alarm, and stops heating.
Scope of application:
It is mainly used for heat treatment of large high chromium and high manganese steel castings, rolls, pressure vessels, slewing bearings, large shafts and various mechanical parts and die materials.
Characteristics of trolley resistance furnace:
Large loading

c

a

pacity, high production efficiency, low operating cost, large heat treatment ability.

Furnace type can be designed for furnace fixed, furnace body mobile.

Electric furnace lining adopts full fiber structure, improve heat preservation performance of furnace body, save energy, reduce production cost.

The furnace temperature using microcomputer intelligent instrument, SCR power regulation, pressure regulation, can automatically complete temperature, heat preservation, cooling and other processes, can use programming control, automatic control box record storage and operation process, with group control, networking and other functions.